Thursday, February 23, 2023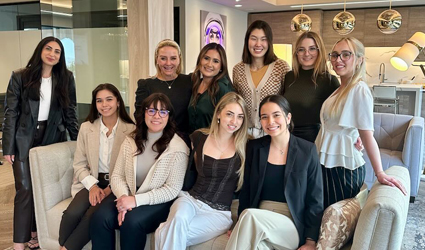 When half of the workforce is "quiet quitting," J/PR is nurturing their staff. That investment returns employee engagement and loyalty back to J/PR. employer.
Jamie Sigler O'Grady, a founding partner of J/PR, knows that passion can spark a great career. Her passion led her to create an agency focused on travel, hospitality and consumer goods.
From the start she thought that if you love where you work, then it will translate into better work for the agency's clients. Bringing that philosophy to life, the J/PR offices in San Diego are filled with co-working collaboration spaces and art from female artists to inspire the team.
From Intern to Career Boss
A white paper from Deloitte suggests that to win over Gen Z, employers have to look at apprenticeship programs. This puts an emphasis on growing employees from entry-level positions and mentoring them into more seasoned roles.
O'Grady said that 40% of J/PR's interns have grown to senior level positions at J/PR.
J/PR offers internships every spring. Their internships are a way to get a finger on the pulse of the hospitality public relations world.
Work Life and Balance
While working with luxury destinations may seem like the reason to stay with J/PR, their staff have are getting benefits that might not have been considered a decade ago.
O'Grady said, "I want you to fill all your cups" when talking about work-life balance. She believes all aspects of one's life should be fulfilling.
Data on Gen Z shows they want that too. In fact, a survey from Handshake reported that 73% would stay with an employer because of benefits.
From the office nap-pod or the hybrid opportunities to work from home some days, O'Grady ensures the perks her people appreciate are prioritized.
J/PR offers a private pumping station for nursing mothers. They have a mini spa on site to freshen up if someone wants to take a lunchtime yoga class or a run in Balboa Park. They even keep their bathroom stocked so employees don't have to remember to pack their shampoo in their gym bag.
Get Work Ready for Gen Z
According to Gallup, almost half of the workforce is now made up of Millennials and Gen Z workers.
Their style will continue to shape the expectations of what employers offer.
For Gen Z, who say that benefits and enjoying their work is nearly as important as salary, employers now have more opportunities to attract talented and engaged employees.
About the author: Morgan Davidson is a 2023 Broom Student Fellow. Morgan and the Broomies visited the J/PR offices in February 2023 as a part of the professional development and networking program.