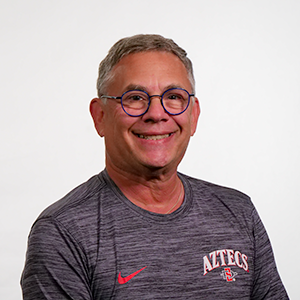 Louis Weiner
Lecturer
San Diego
Bio
Louis Weiner joined the SDSU JMS faculty in Fall 2014. He is a 30-year broadcast professional who has spent his entire career at KFMB-TV, the CBS affiliate in San Diego. He's currently the senior producer in charge of the 5 p.m. news. Professor Weiner received both his B.A. (Journalism, 1985) and M.A. (Education, 2013) at SDSU and is excited to be teaching at his alma mater.
His background in journalism, as well as in learning design and technology, enable him to teach in both of those programs in the School. A huge sports fan, Professor Weiner attended SDSU with dreams of becoming a sportscaster. During his four years in school, he covered sports for the campus' student-run newspaper The Daily Aztec, worked as the sports director for campus radio station KCR, and did play-by-play for various sports on the campus cable TV show Sports Scene.
Over the years, Professor Weiner has been honored with 11 Emmy Awards from the Pacific Southwest Chapter of NATAS. He is most proud of the coverage he helped provide on KFMB during the 2003 Cedar Fire when he spent a marathon session of 8 straight hours in the control room during News 8's continuous coverage.