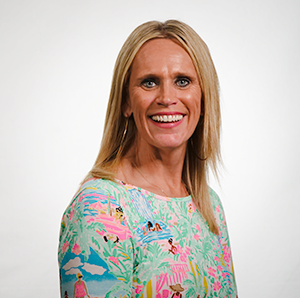 Dr. Kaye Sweester
Professor
Director, Glen M. Broom Center for Professional Development in Public Relations
San Diego
Email

Location

AH-4179

Links
Bio
Kaye Sweetser, Ph.D., APR+M, Fellow PRSA is a professor of public relations in the School of Journalism & Media Studies at San Diego State University. At SDSU she serves as the director of the Glen M. Broom Center for Professional Development in Public Relations and the program coordinator for the JMS Military Public Affairs Officer Graduate Program.

Dr. Sweetser has more than 20 years of public relations experience and more than a decade in the classroom. As one of the most prolific scholars in online public relations, Dr. Sweetser's research agenda focuses on how practitioners use digital media.

Since 1996, Dr. Sweetser has been practicing military public affairs – first as an active duty enlisted Navy mass communication specialist (1996-2001) and then as a commissioned Navy Public Affairs Officer (2001-present).

In 2007, she worked as media officer on a campaign that earned PRSA's highest honor, the Silver Anvil, in the government crisis communication category. In 2011, she won a second Silver Anvil as the advisor for the iCount campaign. In 2015, she won a Silver Anvil Award of Excellence for her part in the Rim of the Pacific Exercise and work on the media assessment for the event. That is a lot of recognition for her work as a PR professional.

It is worthy to note that Dr. Sweetser is a battle-tested public relations practitioner, having served as a mobilized Reservist at the headquarters for the war in Afghanistan for seven months in 2011.

As an academic, Dr. Sweetser believes the strongest assets she brings into her classroom are her real experiences from her own practice of public relations.

In 2010 while at the University of Georgia, she advised the winning team of students in PRSSA's Bateman Case Study Competition. She won numerous teaching awards and served as a Research Fellow for the Society of New Communications Research in 2008. More awards, more awards.

Dr. Sweetser was Accredited in Public Relations in 2006, and later adding the Military Communication specialization to become APR+M in 2010. From 2013-2015, Dr. Sweetser served on the Universal Accreditation Board as the Research Work Group Chair. The Public Relations Society of America inducted her into the College of Fellows in 2017, a distinction she holds as a high-point in her career.

All of this points to a career of hard work by Dr. Sweetser. No stranger to digging in and creating opportunities for herself, while on active duty enlisted in the military Dr. Sweetser earned an associate's degree from Tidewater Community College in Virginia Beach, Virginia, and a bachelor's degree from Old Dominion University in Norfolk, Virginia. After transitioning off active duty to the Navy Reserve, she continued her education on the GI Bill. Her master's and doctoral degrees are from the University of Florida. Go Gators.