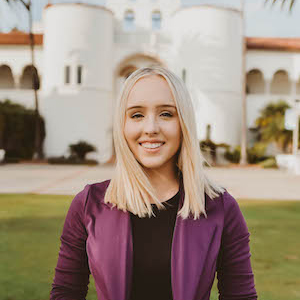 Taylor Fredericks
Student Fellow Alumni - Class of 2021
Glen M. Broom Center for Professional Development in Public Relations
San Diego
Bio
Taylor Fredericks graduated with a degree in public relations from the School of Journalism and Media Studies in May 2021.
Taylor earned a spot for class of 2021 in the competitive Broom Student Fellows program in the Glen M. Broom Center for Professional Development in Public Relations. The program is designed for students who push the status quo and take initiative even before entering the field.
During her time at SDSU, Fredericks held a vice president position on the board of Professional Studies and Fine Arts College council, was a member of the Public Relations Student Society of America and finished her senior year interning at J Public Relations.
Embodying the legacy of Dr. Glen Broom and the spirit of taking initiative, Taylor looked for a position after graduation where she could be her best professional self. Taylor accepted a full-time position after graduation with J/PR.