JMS and Adobe collaborate for career-focused webinar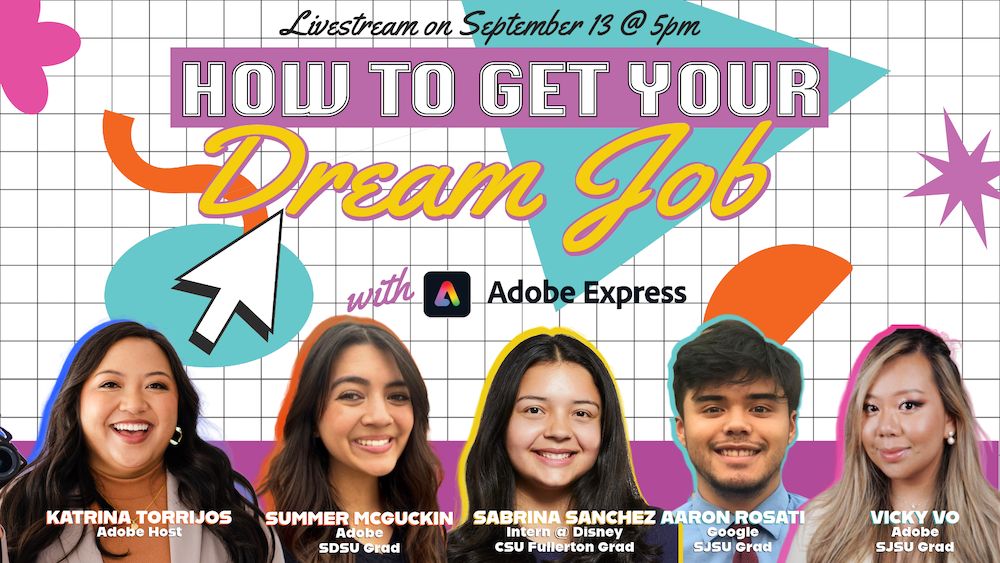 The School of Journalism and Media Studies partnered with Adobe on Wednesday, Sept. 13 to present a webinar focused on achieving one's dream job and how Adobe Express can be an important tool on this journey.
Katrina Torrijos, an Adobe evangelist, took participants through a demonstration of how simple Adobe Express can be in creating engaging graphics that can help distinguish you from others. This included sharing a template with the audience and challenging them to create something during the webinar. In addition to Katrina, four recent California State University alumni shared their experiences of landing their "dream jobs" and detailed how Adobe was able to get them there. They also fielded questions from the participants on a range of topics.
Panelist Summer McGuckin started her career at Adobe after graduating from San Diego State University in 2022. She provided a demonstration on how to use Adobe Express to create a banner for LinkedIn. All four panelists shared insights about how students can set themselves up for success by building a digital portfolio and doing as many internships and other experiences as possible.
Emmy Galante, an undergraduate JMS student who attended the webinar, said that she "enjoyed the specific tips they gave for resume building, like being aware of the use of color and design on one's resume."
McGuckin touched on returning to her alma mater to guide current students: "I'm so grateful for these opportunities to give back and empower students. I'm still figuring things out as I am so early in my career, but I think that's the beauty of this time in life."
She also touched on her experience with school events like this webinar: "I attended lots of events like this when I was a student. A webinar hosted by Adobe led me to my internship in the first place. Throughout college, I was always looking for clubs, internships and similar experiences to challenge myself and grow and I really encourage other students to take advantage of the resources that are out there."
As the JMS and Adobe partnership continues, students will have more webinars aimed at honing their digital skills.