From JMS to ESPN: Stormy Buonantony reflects on her journey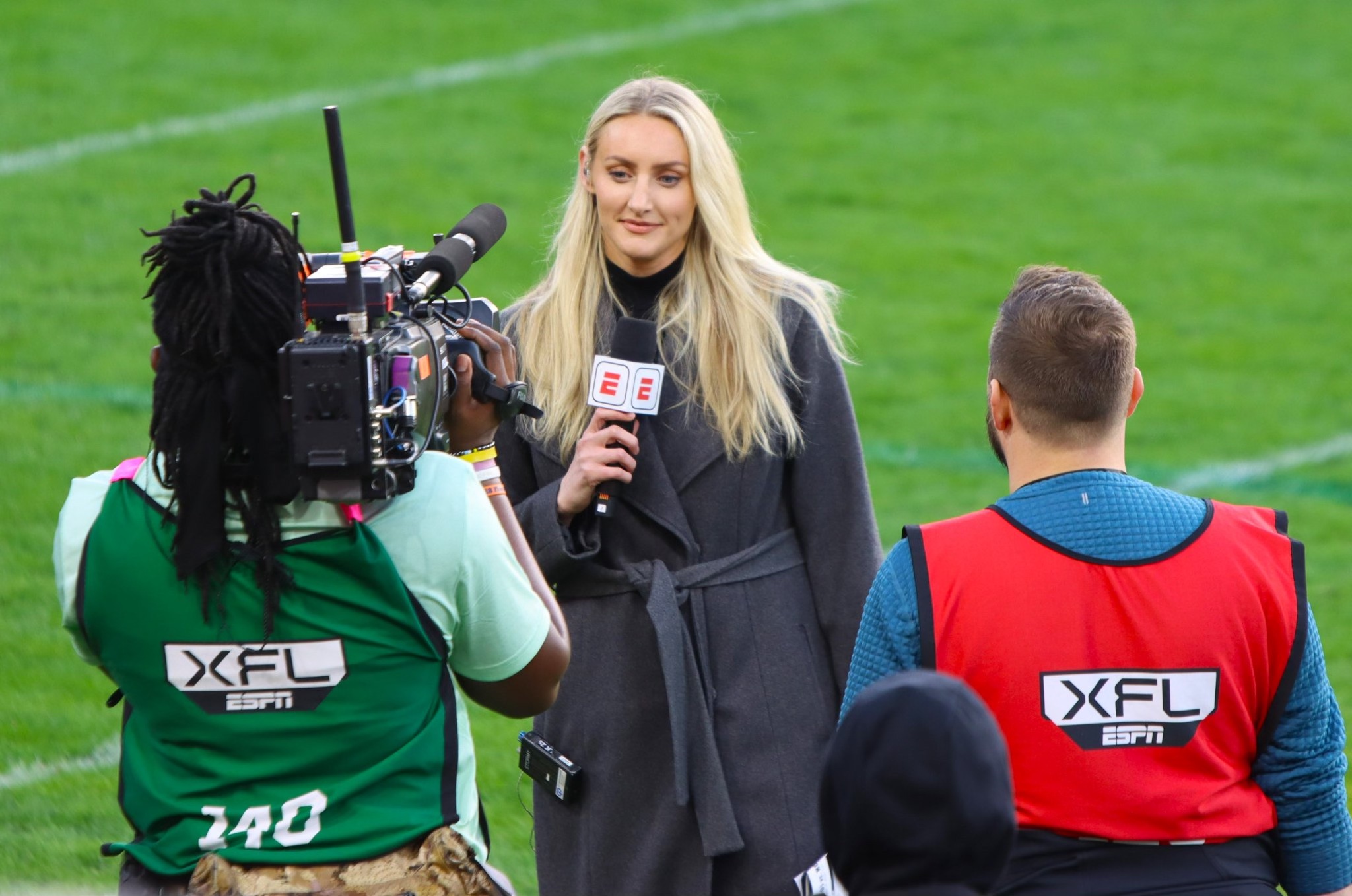 If you watch college football on ESPN, you have probably already seen Stormy Buonantony ('14) reporting from the sidelines. A natural on camera, she was not always sure of what she wanted to do. In fact, JMS had nothing to do with her decision to come to SDSU.
"I've always been big into sports, so I was initially drawn to the D1 football and basketball programs at SDSU," recalled Buonantony.
Although it may have been the sports that got her interested in SDSU, she quickly became entrenched in the JMS program. One class that stands out to Buonantony is Journalism Professor Rebecca Nee's.
"I loved the social media class taught by Dr. Nee," Buonantony commented. "That one was honestly super fun."
Nee remembers Buonantony as someone who lit up the classroom.
"She was as good behind the camera as she was in front of it," Nee said. "I wasn't surprised to see her on air, covering sports. I'm glad she's still an enthusiastic Aztecs fan."
Since her time in JMS, she has worked as a Mountain West Network reporter and host, Carolina Panthers reporter and the rinkside reporter for the Vegas Golden Knights. Buonantony currently works as a ESPN college gameday reporter and a host for the sports betting network VSIN.
Buonantony urges SDSU students to take advantage of the internships and classes that JMS offers. She believes there are many opportunities for students to get involved and advises students to build connections along the way as you never know how someone you know today can help you in the future.
"When I was auditioning for a job with the Golden Nights in Las Vegas to be the rinkside reporter, somebody that knew me from my time with the Mountain West Conference essentially put my resume on the pile to be looked at. It was just because I made a good impression on this one person years ago," remarked Buonantony.
Stormy urges students to "be open minded [as] opportunities can come from anywhere. There's no one set path that anybody has to be on."
Looking ahead, Buonantony is excited for where her career will go next and appreciates the training she received at JMS that helped get her where she is today.