Game on: JMS scores big with Trotter teaching sports journalism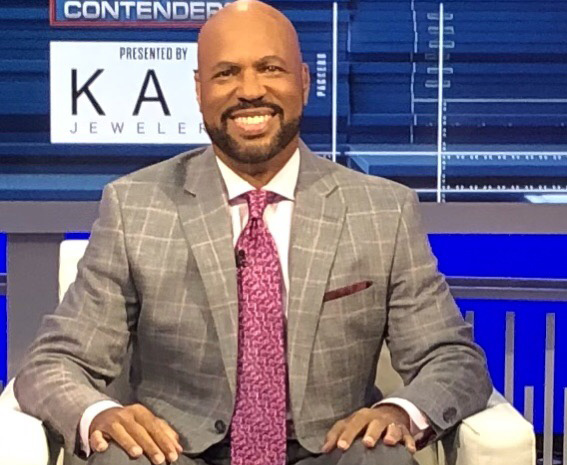 Jim Trotter will take the field again, returning to the School of Journalism and Media Studies this spring to teach sports journalism (JMS 426). Trotter brings with him a large playbook of ideas based on years of professional experience to share with students in this upper-division elective.
After graduating from Howard University in 1986, Trotter worked for the San Diego Union-Tribune for 18 years. During that time, he developed a reputation for strong reporting based on his coverage of local and national sports stories. He has subsequently worked for Sports Illustrated, ESPN and the NFL Network. In 2023, Trotter took on a position as a national columnist for The Athletic.
When Dr. Temple Northup, director of JMS, first approached Trotter with the idea of teaching a sports journalism class, Trotter was excited as his undergraduate program did not offer this type of experience.
Trotter recalls, "This was an opportunity to give back to the aspiring journalists and give them insight in terms of things that I have seen that could help them early in their careers and as they go forward."
He also believes that his background in the industry helps when teaching the class.
"There is no substitute for practical experience, and so what I'm trying to do is to marry theory with practice," says Trotter.
Northup calls signing Trotter to the JMS team a homerun. He echoes that much of Trotter's success is his ability to bridge what students are learning in the classroom with how things operate in the real world. Northup adds that many students from Trotter's previous two classes have already landed impressive positions:
"I have seen the fruits of Jim's labors already paying off," said Northup. "With Trotter's help, our students have found jobs at companies like ESPN. Trotter is so respected within the industry that when he sends someone their way, it's a sign that they will come prepared and ready to go from day one."
Juan Avila Medrano, a student from Trotter's first class, used the knowledge he learned to help land a job at ESPN.
Medrano remarked, "Professor Trotter is the truth! He taught me how to handle real-world experience in the sports journalism world and always gave me feedback on how I could improve. I will forever be grateful for the knowledge he shared with me."
Trotter tells future students not to expect the class to be all fun and games, though. He has found there is often a misconception around sports journalists but, just like other journalists, being a good writer is an essential skill. Developing those skills are all part of Trotter's winning strategy – and it is clearly paying off.