Undergraduate Certificates
The School of Journalism and Media Studies offers two undergraduate certificates. Please see below for more information on how to obtain these certificates.
The basic certificate in international media offers a theoretical grounding in media and in a specific, applied media field, as well as enhancing foundational knowledge with courses on global aspects of media use, media technologies, and media industries. Students take a course in contemporary media or in social media in the digital age, then augment foundational coursework with a course in advertising, journalism, media studies, or public relations. Students also apply theoretical knowledge to specific, global media contexts.

The certificate program is open to students enrolled at San Diego State University or in the College of Extended Studies, excluding major and minor students in the School of Journalism and Media Studies.

Students will enhance major area studies with an understanding of international media. International students studying advertising, journalism, media, or public relations at their home universities augment their knowledge with international aspects of media. The certificate is appropriate for Open University students in international media as a career-enhancement option or as an academic foundation. For more information, contact Alexa Mokalis at [email protected].

All courses in the certificate program must be completed with a grade point average of 2.0. Information to come soon.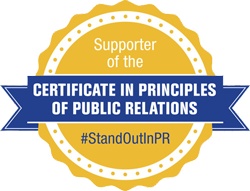 The School of Journalism & Media Studies is proud to offer preparation toward the Certificate in Principles of Public Relations, a national recognition granted by the Universal Accreditation Board, based in New York City. To qualify, applicants must be undergraduate seniors in the public relations major within six months of graduating with the bachelor's degree. Students must also be members of Public Relations Student Society of America.
SJMS students were among the first in the nation to earn a Certificate in Principles of Public Relations, when they participated in the beta testing of the program in spring 2013. The program officially launched in 2014, when SJMS public relations professor Dr. Bey-Ling Sha chaired the Universal Accreditation Board, on which Dr. Kaye Sweetser of SJMS was also a member at the time.
For more information please visit, http://www.praccreditation.org/apply/certificate/. If you are a public relations major at San Diego State and wish to apply to participate in the Certificate program, please complete the online application. The SJMS faculty coordinator for the Certificate program is Dr. Hongmei Shen, APR.